Microbiology
The Department of Microbiology at Indraprastha Apollo Hospitals aims at providing accurate and reproducible results on clinical material within the shortest possible time. This has been achieved by round the clock laboratory services, online reporting and use of state of the art equipment. Many of these extensively used systems have been introduced for the first time in clinical practice in the country.
Blood Culture on Bactec 9120 and BacT ALERT 3D automated systems for aerobic and anaerobic bacteria, fungi and mycobacteria indicate positivity from 3 hours onwards. Identification and sensitivity of most of the organism grown could be reported in about 4 - 6 hours, on an automated system. Thus organisms causing life threatening infections resulting in bacteraemia can not only be grown , but their identification & sensitivity is also be available in about 10 hours time, which helps greatly in institution of early specific antimicrobial therapy.
Conventional culture for aerobic and anaerobic bacteria, fungi and amoebae from clinical specimen other than blood is carried out on most appropriate media in controlled environment. Identification & sensitivity of bacteria can be reported within 4-6 hours on VITEK2 compact automated systems, thus reducing the time of availability of report by almost a day. The department has in-depth experience in automated antimicrobial susceptibility testing on this equipment in the country.
Conventional culture of Mycobacteria takes 4-6 weeks. However, with Bactec MGIT 960 automated system it is possible to report positive cultures from seventh day. Once the growth is available the sensitivity can be reported as early as seven days to the first and second line drugs as per the WHO guidelines.
The lab is equipped with the latest in the world-the Xpert MTB/RIF –a fully –automated real time polymerase reaction based technology for genome based detection of Mycobacterium tuberculosis and its resistance to Rifampicin within the same day! The laboratory also runs the tests with Genotype Mycobacteria series which helps in identifying the exact Mycobacterium species which is important as the drugs for treatment could be different based on the species. The genetic component of Mycobacterium tuberculosis complex for resistance to 1st and 2nd line drugs (MDR AND XDR TB) can be detected. The results for the Genotype series are available within 48-72 hours thus expediting treatment.
Mycology Laboratory in the Microbiology Department at Indraprastha Apollo Hospitals is amongst few centers in India which have been carrying out fungal identification and sensitivity testing of Candida, Cryptococcus and all species of yeasts. Susceptibility testing for moulds and many other microbes is a regular feature as well
Our laboratory performs real time PCR for Herpes simplex, H1N1 virus, Cytomegalovirus, Human papilloma Virus, Epstein –Barr virus, BK/JC Virus, Mycobacterium tuberculosis for which the results are available within 24-48 hours .Quantitative Cytomegalovirus determinations are considered as essential armatorium in care of transplant patients.
Detection of specific antibodies against different infecting organism (bacteria, fungi, parasites and virus) are carried out both by conventional & ELISA system. More than 80 different types of ELISAs are performed in our department. Almost all conventional serological tests are available. Autoimmune disorders are worked up comprehensively with gold standard IFA/ELISA techniques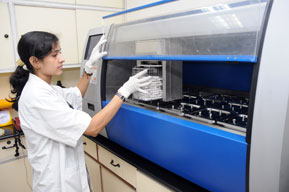 Quality control (Q.C.) and quality assurance (Q.A) are strictly implemented and authenticated by reproducible result from other laboratories in India and abroad. Clinically the department is involved in diagnosis and management of infectious diseases including appropriate antimicrobial therapy.
The department is actively involved in infection prevention and control activities of the Hospital. Epidemiology and surveillance of hospital associated infections and training of all categories of staff is an ongoing programme. From time to time guideline on different topics is issued which are complied periodically in the Hospital manuals.